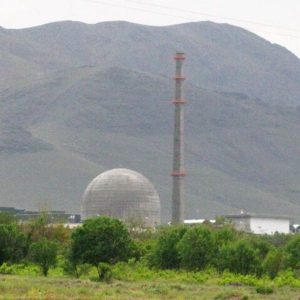 "A year ago, speaking at the UN, I exposed Iran's secret nuclear warehouse in Turquzabad. This morning, a special board meeting of the IAEA published its findings on Iran's activities in the no-longer-secret facility. The IAEA now confirms that Iran lied. And that Iran continues to lie about its nuclear program.  I urge the international community to wake up. I call on the nations to join the US and Israel and further increase pressure on Iran. Iran is a danger not only to Israel and the Middle East. It is a danger to the whole world. I applaud that, at least today, the International Atomic Energy Agency understood this well." – said Prime Minister Benjamin Netanyahu.  He responded to the IAEA's top inspector's acknowledgement that Iran was hiding information about uranium production at this atomic warehouse, where evidence of such work had been found earlier this year. (United With Israel, Nov. 10, 2019)
"Why isn't there peace with the Palestinians? I look at Abu Mazen [Mahmoud Abbas] and ask: 'What about you?' They aren't ready to accept us," he said at a special Knesset meeting to mark the 25th anniversary of Israel's peace treaty with Jordan. Half of the [Palestinian] people back Hamas and want to annihilate us, and the other half don't want to fight with the first half, while [they all] suffer from internal conflicts," – said Prime Minister Benjamin Netanyahu at a special Knesset meeting.  He explained why he thinks the Palestinians have refused to make peace with Israel. (United With Israel, Nov. 11, 2019)
"UNRWA never even tried to solve the refugee problem it was charged with, and in fact seemed dedicated to perpetuating it… At the same time, the budgets appropriated to UNRWA put the United Nations' actual refugee agency to shame. Not only is UNRWA's budget per refugee four times greater than that dedicated to any other refugee, but the agency employs 30,000 people. The UNHCR — which deals with 70 million refugees — employs only 10,000 people. But it seems that UNRWA's party is coming to an end. It started with the Trump administration's decision to cut funding to the agency. Then came the leak of the highly embarrassing internal report that accused the organization's director of corruption. Later still, an increasing number of donor countries, including Switzerland, the Netherlands, and New Zealand, announced they were suspending aid." – writes Amb. Pon Prosor in an op ed.  (Algemeiner, Nov. 12, 2019)
"Israel Leads by Leaps and Bounds, We Can Learn A Lot," – said South African President Cyril Ramaphosa during a recent economic policy address to women business leaders in Johannesburg. At the event, he said he hopes that South Africa can emulate Israel's approach to funding research to create a high-tech economy similar to startup nation. (United With Israel, Nov. 7, 2019)
"It is baffling to me that anti-Semitism is not treated with the same disdain as racism or other forms of hate. It is exactly the same.  It must never be tolerated.  It must never be excused.  It must never be rationalized," – said former UN Ambassador Nikki Haley upon receiving the World Jewish Congress's prestigious Theodor Herzl Award.  (WIN, Nov. 10, 2019)
"The last Fair this year, in Sharjah, UAE, is arguably, the most vicious. To our horror, the current Sharjah International Book Fair (SIBF 2019) is held under the auspices of UNESCO, as 'UNESCO World Book Capital' This link camouflages the reality, as its manifesto declares 'Open a book that opens minds: to celebrate the power and influence of books in uniting peoples… The initiative aims to promote peace, cultural enrichment, and intercultural dialogue through education'… 
The reality is [that in] stand after stand [carries] Hitler's 'Mein Kampf', the 'Protocols of the Elders of Zion' forgery and countless titles referring to Jewish conspiracies…Our selection below is only the tip of the iceberg of piles of such screeds," – Simon Wiesenthal Centre Director for International Relations, Dr. Shimon Samuels wrote in a letter to UNESCO Director-General, Audrey Azoulay, as regards the selection of antisemitic books on display at this year's Fair.  (Simon Wiesenthal Center, Nov. 7, 2019)
IRAN BEGINS CONSTRUCTION ON SECOND NUCLEAR REACTOR AT BUSHEHR (Tehran) — Iran began pouring concrete for a second nuclear reactor at its Bushehr power plant breaking the enrichment limit set by its unraveling 2015 nuclear deal with world powers. Bushehr is fueled by uranium produced in Russia, not Iran, and is monitored by the United Nations' International Atomic Energy Agency. However, Iran began 4.5% enrichment in part to supply Bushehr despite the deal limiting it to 3.67%.  (WIN, Nov. 10, 2019)
ROUHANI ADMITS WITHOUT OIL EXPORTS THE GOVERNMENT IN IRAN IS BROKE (Tehran) — Iran's President Hassan Rouhani says his country's situation has never been as "difficult and complicated" as it is today. Rouhani admitted that U.S. sanctions on Iran's oil exports are making it difficult to run the affairs of the country. The remarks are in sharp contrast to Rouhani's previous statements in which he portrayed a promising picture of the country's economy. In recent months, he and his senior aides have said repeatedly that the country's economy was growing, the inflation rate was on a declining curve and non-oil exports were making up for lost oil sales. (Radio Farda, Nov. 12, 2019)
ISLAMIC JIHAD LEADER IN DAMASCUS ALSO ELIMINATED

(Damascus) — Islamic Jihad Commander Baha Abu Al Ata was not the only leader of the terrorist group targeted overnight Monday. The terror organization reported on Tuesday morning that the head of its political bureau, Akram al-Ajouri, was killed in an explosion that rocked his building in Damascus. Syrian News Agency Sana said two rockets struck his home "killing his son Muadh and another person." The IDF, which Islamic Jihad blamed for the targeted killing, has not taken responsibility for the attack. (WIN, Nov. 12, 2019)
IDF MASSING GROUND FORCES ON GAZA BORDER TO THWART TERRORIST INFILTRATION ATTEMPTS (Gaza Strip) — Early Tuesday morning, the IDF assassinated Baha Abu al-Ata, commander of the Iran-backed Palestinian terrorist group Islamic Jihad. Since then, southern Israel has been blanketed by rocket fire from Gaza, with warning sirens sounding as far away as Tel Aviv, in the center of the country. According to the Israeli news site Walla, the IDF is moving armored forces and infantry units to the border area. Furthermore, senior reserve officers are being sent to the Southern Command headquarters. (WIN, Nov. 12, 2019)
JORDAN'S KING DECLARES 'FULL SOVEREIGNTY' OVER LEASED ISRAELI FARMLAND; REPORTS CONFLICT AS TO FARMERS' FUTURE (Amman) — Jordan's King Abdullah announced that he has taken full sovereignty over land previously leased to Israel. The Jordanian king was referring to Naharayim and Tzofar, two areas of land adjacent to Jordan that had been leased to Israel for 25 years following the signing of the 1994 Jordan-Israel Peace Treaty. (WIN, Nov. 10, 2019)
JORDAN FOILS PLOT AGAINST U.S., ISRAELI DIPLOMATS AND AMERICAN SOLDIERS (Amman) — Jordanian intelligence recently foiled a plot by two suspected militants to mount terror attacks against U.S. and Israeli diplomats alongside U.S. troops deployed at a military base in the south of the country.  The suspects had planned to drive vehicles into their targets and attack them with firearms and knives. They will stand trial in Jordan's state security court, it added. (Reuters, Nov. 12, 2019)
LIBERMAN ISSUES ULTIMATUM TO NETANYAHU, GANTZ: 'WHOEVER DOESN'T COMPROMISE, WE'LL JOIN THE OTHER SIDE' (Jerusalem) – On Israel's Channel 12, Avigdor Liberman, chairman of the Israel Beiteinu party warned Likud and Blue and White that if they don't form a unity government, he'll punish whichever side he feels responsible by joining with the other. Liberman said he planned to reach out to both Blue and White leader Benny Gantz and Likud chairman and current Prime Minister Benjamin Netanyahu and to hold a meeting between the three of them. (WIN, Nov. 10, 2019)
ISRAEL'S NETANYAHU APPOINTS RIVAL BENNETT AS TEMPORARY DEFENSE MINISTER; NEW RIGHT TO ALLY WITH LIKUD (Jerusalem) — Israeli Prime Minister Benjamin Netanyahu appointed a bitter rival to his right, Naftali Bennett, as defense minister of his caretaker government. Bennett, the leader of the New Right party, will take the defense portfolio from Netanyahu, who has simultaneously served as prime minister and defense minister for nearly a year. (Algemeiner, Nov. 8, 2019)
UN HUMAN RIGHTS COUNCIL SESSION SEES PRAISE LAVISHED ON IRANIAN REGIME'S HUMAN RIGHTS RECORD (Geneva) — During the United Nations Human Rights Council (UNHRC) mandatory annual human rights review of the Islamic Republic of Iran, it unabashedly praised Tehran's human rights record. Out of 111 countries present at the session at the UN's Geneva headquarters, 95 lauded Iran as a defender of human rights, according to a tally kept by UN Watch, a leading Geneva-based NGO. (Algemeiner, Nov. 8, 2019)
50 JEWISH GROUPS BLAST THREAT TO WITHHOLD AID TO ISRAEL PRESENTED BY SANDERS, WARREN AND BUTTIGIEG(Washington) – The Conference of Presidents of Major American Jewish Organization that represents more than 50 Jewish organizations has condemned Democratic presidential candidates Sen. Bernie Sanders, Sen. Elizebeth Warren, and South Bend Mayor Pete Buttigieg's steadfast stance on using U.S. military aid to Israel as a means of leverage in negotiations.  At J Street's National Conference last month, all three presidential candidates expressed their desire to use U.S. aid to Israel as leverage if needed. (United With Israel, Nov. 7, 2019)
APPROPRIATION OF NAZI-ERA 'YELLOW STAR' AT PARIS DEMONSTRATION AGAINST ISLAMOPHOBIA OUTRAGES FRENCH JEWS (Paris) — The official body representing French Jews and prominent Muslim leaders were among the critics of an incident at a march against Islamophobia in Paris last Sunday, during which some participants donned yellow stars embossed with the word "Muslim" in a conscious echo of the yellow Star of David which Jews living under Nazi German occupation were forced to wear on their outer clothing. A crowd of 13,500 marched in the center of the French capital to protest anti-Muslim bigotry, in the wake of an arson attack against a mosque in the city of Bayonne on Oct. 28 in which two people were injured. One of the two men arrested in connection with the attack was a former parliamentary candidate for the National Front — now renamed the National Rally — the main far-right party in France. (Algemeiner, Nov. 12, 2019)
PROMINENT JEWISH GROUPS SLAM EUROPEAN COURT'S RULING MANDATING THE LABELING OF ISRAELI SETTLEMENT GOODS (EU) — Major Jewish organizations responded with outrage on Tuesday over the decision by the European Court of Justice to mandate the labeling of goods produced in Israeli settlements. The Conference of Presidents of Major American Jewish Organizations, American Jewish Committee Transatlantic Institute, the Lawfare Project, and AIPAC were among Jewish organizations that issued harsh statements critical of the EU.  Critics of the ruling also noted that despite the more than 200 disputed regions throughout the world, Israel is the only nation the EU is requiring political country of origin labeling for, indicating a double standard that, according to the International Holocaust Remembrance Alliance definition, which the EU adopted in in 2017, constitutes antisemitism. (Algemeiner, Nov. 12, 2019)
'BDS FAIL' IN SOUTH AFRICA AS PRO-BOYCOTT LOBBY ABANDONS NATIONAL CAMPAIGN AGAINST ISRAELI COMPANY'S TAKEOVER OF LOCAL DAIRY GIANT (South Africa) — The influential South African lobby advocating a boycott of the State of Israel was forced into a climbdown, as it abandoned plans for an ambitious protest campaign against the takeover of local dairy giant Clover Industries by a Tel Aviv-based consortium. (Algemeiner, Nov. 8, 2019)
ARGENTINA ASKS AZERBAIJAN TO ARREST IRANIAN OFFICIAL IN CONNECTION WITH JEWISH CENTER BOMBING (Buenos Aires) — Argentina asked Azerbaijan to arrest a high-level Iranian official in connection with the 1994 bombing of the AMIA Jewish center in Buenos Aires. Alí Akbar Velayati, an advisor to Iran's Supreme Leader Ayatollah Ali Khamenei, is scheduled to attend a religious leaders summit beginning Nov. 14 in the Azerbaijani capital of Baku. Velayati was Iran's foreign minister at the time of the attack and has been accused of ordering the bombing. The Argentine foreign minister summoned the Azerbaijani ambassador on Friday and asked for his country's cooperation "in order to carry out the detention for extradition purposes." (JTA, Nov. 10, 2019)
SECURITY AGENCIES IN INDIA ON ALERT FOR POSSIBLE TERRORIST ATTACKS ON JEWISH, ISRAELI TARGETS (Bombay) — Security agencies in India are on alert for possible terrorist attacks on the country's Jewish community or visiting Israeli tourists. News site DNA Indiareported that both al-Qaeda and ISIS could be involved in such attacks, as intelligence agencies have traced messages being shared online by the terror groups. (WIN, Nov. 9, 2019)
ISRAELI STARTUP PARTNERS WITH BRAZILIAN SOCCER LEGEND TO SAVE THE AMAZON! (Jerusalem) — Israeli startup VeganNation is partnering with four Brazilian soccer teams to help preserve the Amazon rainforest and raise environmental awareness. Its initiative, called "United Saving the Amazon," comes amid devastating fires that have burned since early August. (United With Israel, Nov. 7, 2019)
GOP PRESIDENTIAL CHALLENGER VOWS TO BE 'MORE PRO-ISRAEL' THAN TRUMP (Washington) — Once a staunch pro-Israel Illinois congressman between 2011 and 2013, Joe Walsh launched this past summer a long-shot Republican primary challenge to U.S. President Donald Trump, whom many have deemed to be the most pro-Israel figure ever in the White House. (WIN, Nov. 9, 2019)
1,000-YEAR-OLD BIBLE ON DISPLAY IN US FOR FIRST TIME(Washington) — On Thursday, the public was invited to take a glimpse at a 1,000-year-old Pentateuch (five books of Moses: Genesis, Exodus, Leviticus, Numbers, Deuteronomy) at the Museum of the Bible.  Dubbed by the museum as the "Washington Pentateuch," it is said to be one of the oldest texts of the bible to be written in book form. (WIN, Nov. 10, 2019)
WATCH: Israeli Cabinet Minister Warns that Iran's Nuclear Program Advances While Israel Fiddles:  WIN, Nov. 10, 2019 — Israeli Minister of Energy Yuval Steinitz warned that "Iran is advancing, step by step, its nuclear capabilities," while Israel waits to establish a government, Arutz 7reports.
WATCH:  Ambassador Nikki Haley accepts the WJC Theodor Herzl Award:  YouTube, Nov. 6, 2019— On 6 November 2019, Former US Ambassador to the UN Nikki Haley was presented with the WJC Theodor Herzl Award in New York.
LISTEN:  CBC The Sunday Edition Airs 30-Minute Anti-Israel Invective:  Honest Reporting Canada, Nov. 11, 2019 — If you tuned into CBC Radioon November 10, you were likely aghast to hear a 30-minute anti-Israel invective that centered largely on replacing the world's only Jewish state with an Arab-majority, Palestinian-run country.